The history of Seattle's efforts to create new land.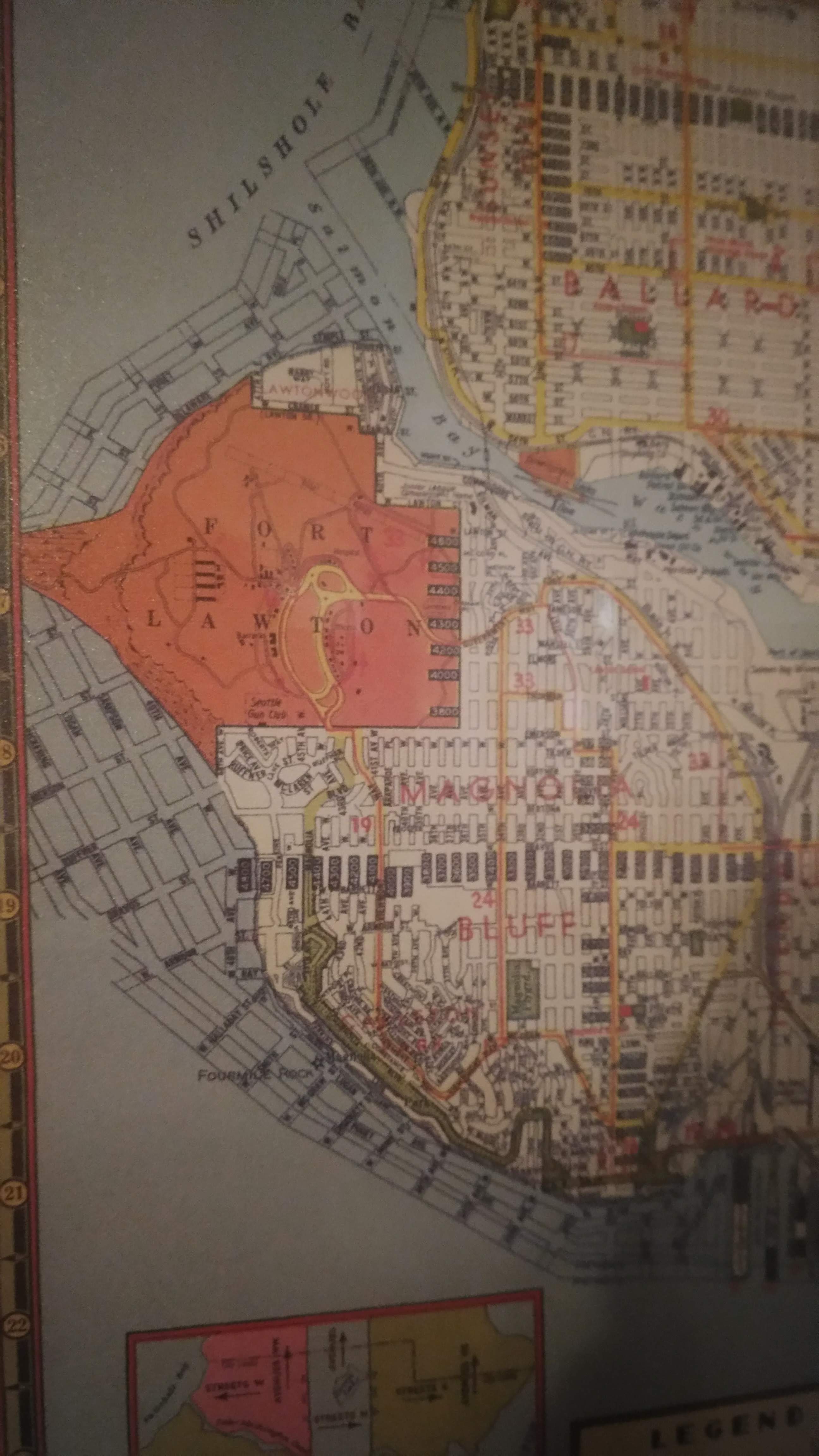 In this post I will take you through an interesting and unique part of Seattle's history. The reshaping of topography that led to the creation of a new Seattle to fit a goal that has since been long forgotten.
I found myself exploring this interesting part of history after visiting my sister in Chicago. I was looking at a map she had put up on the wall of her condo. It is a print of an old map of Seattle, our hometown. She bought it over a Christmas break at home during college, as a souvenir. It had been on the wall in both of her last apartments, but I had never looked at it closely.
While doing some work in her living room I looked up at the poster and noticed something odd about the coastline around Discovery Park and Magnolia, Northwest of downtown. It was surrounded by a geometric grid of rings, a network of streets with names, like Puget Ave, West Points Street and Fort Street, names that held no meaning to me, despite years of biking and driving all around Seattle. Stranger still was their location, floating out far past the tidal flats of the Puget Sound's shoreline near the West Point of Discovery Park.
Today Discovery Park is a beautiful and serene mix of open fields, wooded trails and rocky Puget Sound beaches. With steep sandy cliffs, spectacular views and old army row houses on a huge 534 acre plot, it is one of Seattle's most idyllic natural spaces. Old forests of Red Alder, Pacific Madrone and Western Red Ceder fill the hills and valley's leading to the beach. These dense forest contrasts with the open fields that sit at the top of the cliffs, filled with Bentgrass and Quackgrass and surrounded by Colonial Revival style officer's houses from the long closed Fort Lawton.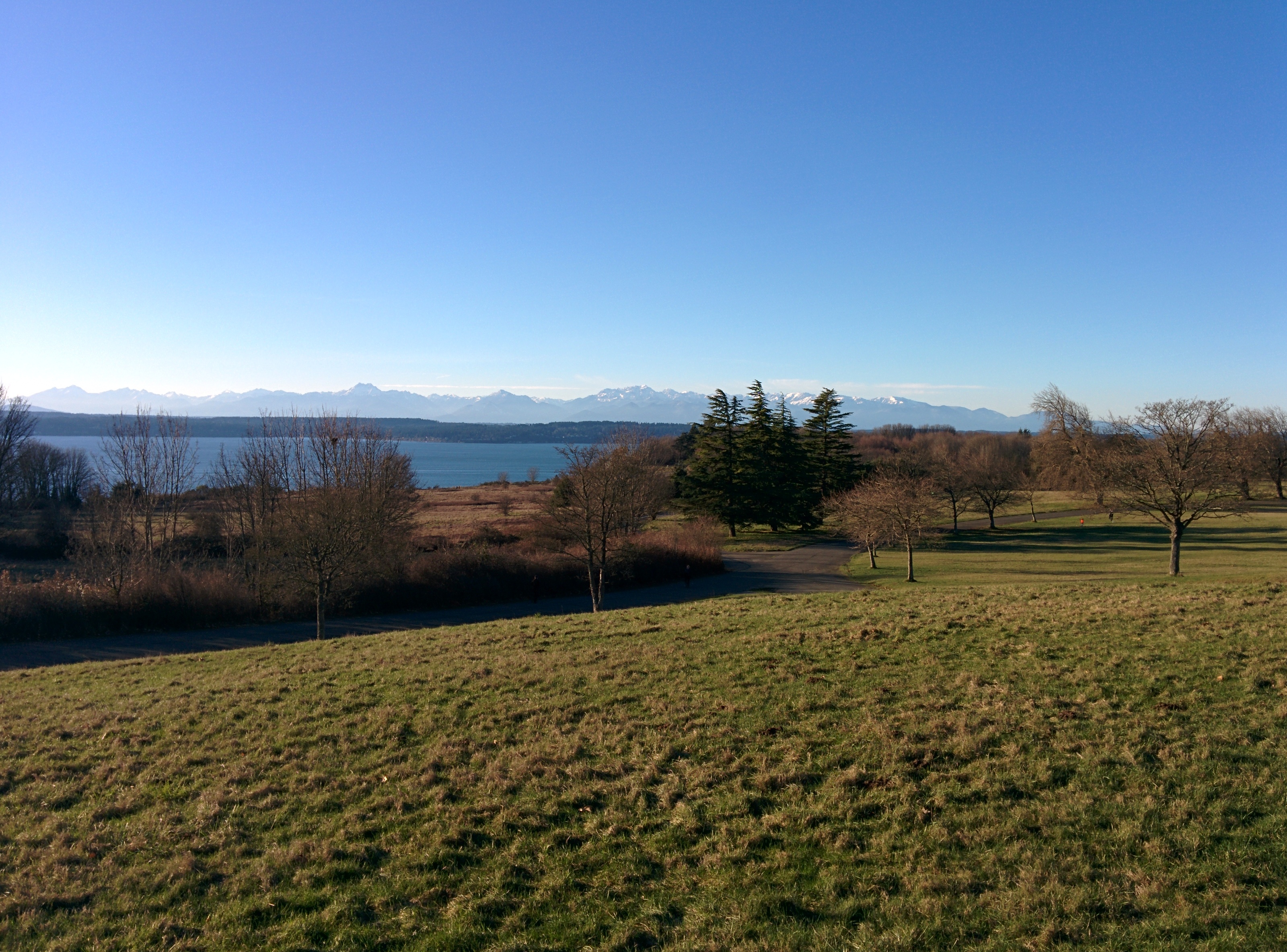 The houses in the Magnolia area surrounding this park benefit greatly from Seattle's topographical extremity, gaining sweeping views of the Puget Sound and the Olympic mountains beyond. Even considering the insane housing market of present day Seattle, these properties are worth a hefty sum, with many houses selling for over $1 million. But these cliffs and hills didn't always provide the same premium as they do today.
Back in the early 20th century Seattle's steep hills were a major impediment to movement, both of people and products. Flat land was prime real estate, however Seattle had very little. The only solution was to make it! The familiar First Hill, Capitol Hill and Beacon Hill that rise above the already steep streets of downtown Seattle used to have a neighbor, Denny Hill, in the area that is now Belltown. It rose around 100 ft higher than Belltown's current elevation of 165ft. The hill was removed and all of the dirt deposited into the Puget Sound in order to create the waterfront that exists there today.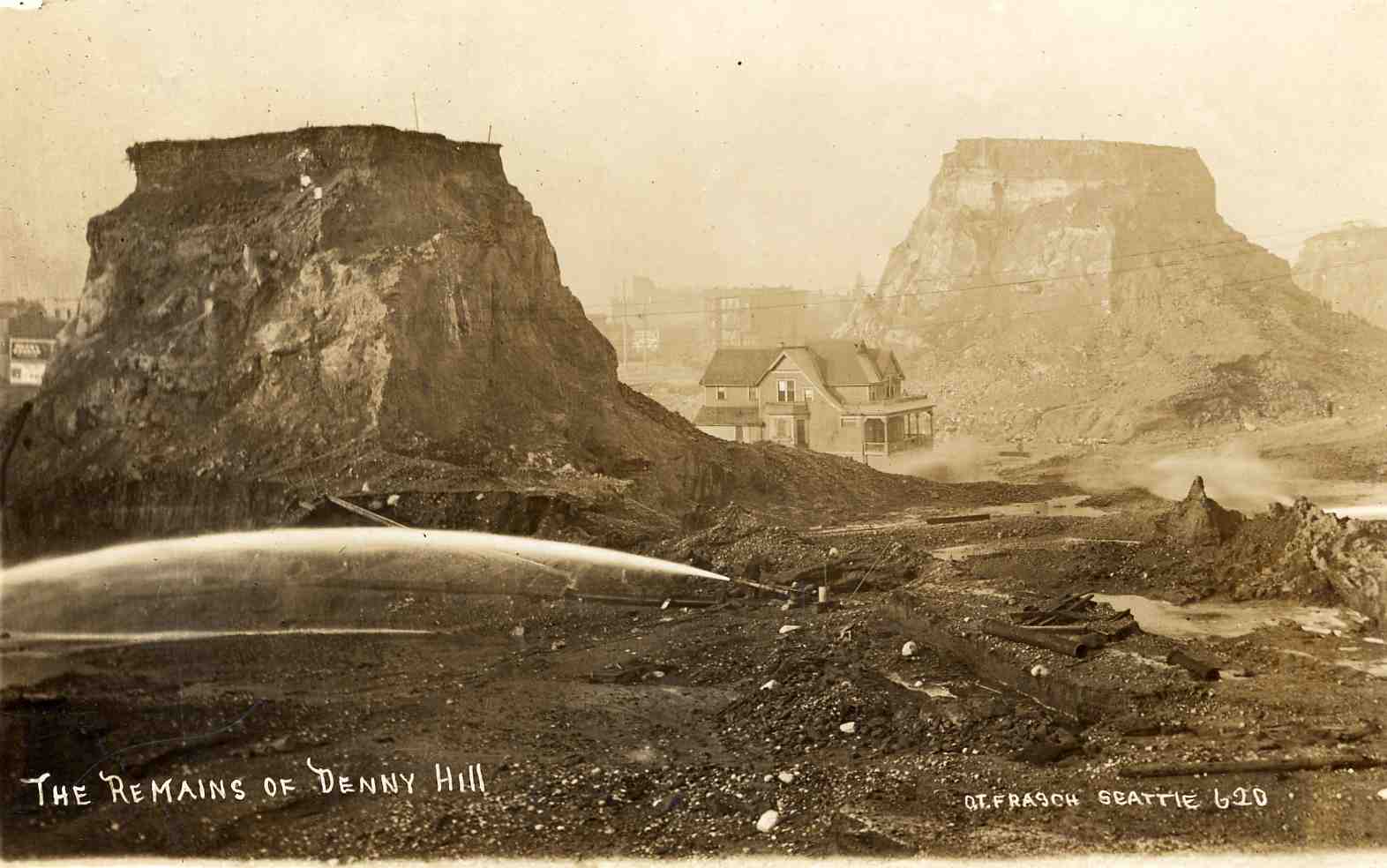 This project took from 1909-1930 and was part of a vision of a very different Seattle. On these old maps from the early 20th century that vision was spelled out clearly. The proposed regrading of the entire Seattle waterfront from West Seattle to Ballard is shown as if it was already done, however an earth moving project of this magnitude was easier to draw than to complete. Near the end of the Denny regrade the country entered the Great Depression and these projects stopped in their tracks. Today the features that made this land undesirable are responsible for the many spectacular views that can drive the price of a property in Seattle to astronomical highs.
When I think of Seattle the steep hills and stunning views are just as important as the rain and coffee. I couldn't imagine a version of the city without these defining traits. This massive effort to reshape the land has created much of what we see as Seattle including the waterfront, much of downtown and Harbor Island. These features feel as integral to Seattle as the natural beauty of Discovery Park and it's steep sandy cliffs, despite being quite recent additions to the landscape. This fascinating part of Seattle's history has made me think about how rapidly human ideals can change, even about something as fundamental as the shape of the land we live, work and build on.